Who We Are
Immigrant Food is an idea that a great team made happen.
Peter Schechter
Co-Founder
Born in Rome, Italy, Peter speaks six languages and is a shaking pot of immigrant mixes. Until the age of six, he spoke only Italian at home in Rome with his parents who immigrated to the United States from Austria and Germany. He then moved to Latin America for almost a decade. Peter is Immigrant Food's intellectual author; the idea is an homage to his parents and particularly his mom, who was a chain immigrant to the United States. Peter is a recognized global policy expert, political adviser and business leader. Until a few years ago, he was the Senior Vice President of the Atlantic Council, and Founding Director of the Council's Latin America Center. His 25 years of experience include political campaigns in Latin America, Africa and Asia, private enterprise advisory, and launching non-profits and new media startups. During this time, Peter was also a Board member and a long-time investor in José Andrés' restaurant group. Peter also hosts and produces Altamar, a critically acclaimed global affairs podcast. He owned Agur Winery, a boutique winery in Israel, and co-manages a Virginia goat farm. Immigrant Food is gastroadvocacy, the perfect bridge between Peter's political consulting career and food experience.
Téa Ivanovic
Co-Founder & Chief Operating Officer
Téa started as the hyper-talented head of communications for Immigrant Food, but as the pandemic took its toll, it became clear that she had to become Jack of all Trades. So she took on management.  And then took on operations.  And then took on financial responsibility.  So, she became the COO. Born in Belgium to parents from the former Yugoslavia and recruited to the United States by Virginia Tech's Division 1 Varsity tennis team, Téa calls herself an immigrant squared. She still can't figure out if Serbian, Flemish or English is her native language – she speaks all of them equally. Her professional career includes creating and implementing strategic communications for international policy and politics at a Washington D.C. think tank, and global financial matters at a financial public and media relations firm. Téa was the first Washington Correspondent for Oslobodjenje, Bosnia and Herzegovina's oldest newspaper and leading news outlet in the Western Balkans. She graduated with a master's degree from the Johns Hopkins' School of Advanced International Studies (SAIS). In 2022, Téa was named on Forbes 30 Under 30 List (Food & Beverage), Washington Biz Journal's 25 Women Who Mean Business, FSR's 40 Restaurant Stars on the Rise, and DC Fray's 8 Trailblazing Women in Hospitality.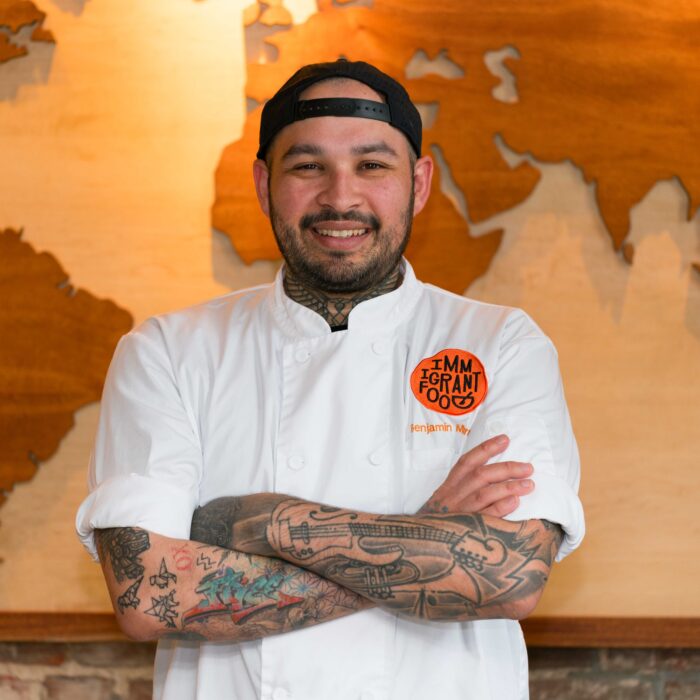 Benjamin Murray
Culinary Director & Executive Chef
Born in Japan and raised in South Florida, Chef Ben Murray's culinary approach mirrors Immigrant Food's goal to offer world flavors in an unintimidating, community-focused restaurant. Chef Ben Murray's resume includes tenure as Chef de Cuisine of Azul at the Mandarin Oriental Hotel Miami, Chef De Cuisine of Pao by Paul Qui, and Sous Chef at Zuma and Area 31. Under his leadership at Azul, the restaurant became one of only two restaurants in Florida to earn a Forbes 5 Star rating. Chef Ben's ethos comes from his early interest in the culinary world from his mother who introduced him to flavors from her native Japan as well as traditional American cuisine from his father's Jewish background. The melting pot of his own cultural background and his eye for combining flavors from different cultures made him a perfect fit for Immigrant Food's next chapter.