After the Taliban takeover of Afghanistan, the US military evacuated over 124,000 Afghans from the country.  What is the legal status of these evacuees?  Well, immigration is a tangled mess – and the plight of our Afghan friends and allies is a telescopic view into how broken down the system has become.  
History has some lessons to impart.  It isn't the first time the US acted in support of large numbers of persons fleeing from persecution. The years after WWII saw some of the largest humanitarian efforts and airlifts by the United States. Seventy three years ago, the United States initiated the Berlin Airlift, sparing West Berlin from falling under the authoritarian government of communist East Germany. Later, in 1980, Fidel Castro allowed over 100,000 Cubans to flee on boats to South Florida. The Mariel Boat-lift prompted President Carter to alter standing immigration policy, allowing the Cuban migrants to stay without delays. These acts are examples of how the United States has repeatedly sought to establish itself as a safe haven for the rest of the world; a nation where immigrants and refugees would be accepted and could begin their path toward the "American Dream". 
Despite this narrative, the US government's recent treatment of immigrants has illustrated a different reality. Today, immigrants and refugees face endless wait times for visas, separation of families, and confusion. How will the United States now deal with the new Afghan refugees? Consistent with the recent negative treatment of asylum seekers from Central America, Afghan evacuees who risked their lives as translators, guides, assistants and allies of US forces now face immense uncertainties about their status and livelihoods. The abrupt departure of US troops has led to a complicated visa application process for many Afghans and an arduous resettlement process once they arrive.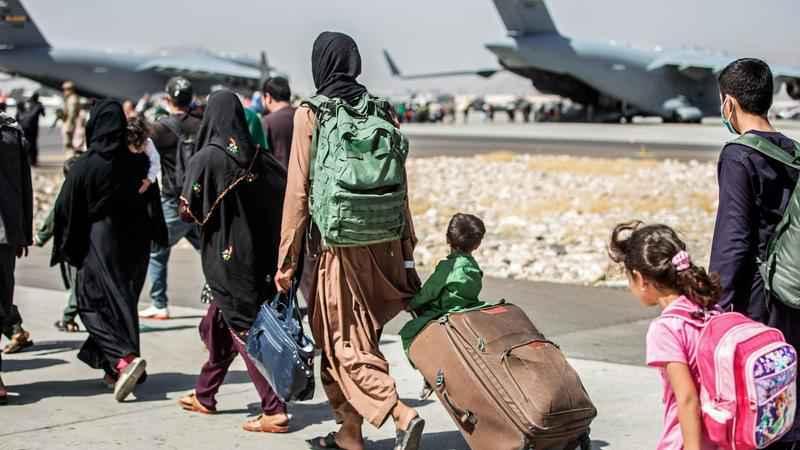 "In this Aug. 24, 2021, file photo, provided by the U.S. Marine Corps, families walk towards their flight during evacuations at Hamid Karzai International Airport, in Kabul, Afghanistan". Credit: Sgt. Samuel Ruiz/U.S. Marine Corps via AP, File
Processing visas for Afghans will be difficult due to the evacuees' varying legal statuses. And, as expected, so far, the response to the challenge has been chaotic. The arriving Afghans face an out-of-date US visa process that is decrepit and chaotic. The majority will arrive without visas. They will be classified as "humanitarian parolees," without any way to garner legal U.S. residency and the benefits and services offered to traditional refugees.   
A minority of the evacuees have access to Special Immigrant Visa (SIV) status. There is currently a 34,500 limit on SIV slots for from Afghanistan, but about 50,000 Afghans are eligible. SIV status is granted to evacuees who interpreted, translated or assisted the US military, a US intelligence agency, or a US military contractor for at least 2 years. However, even with the possibility of receiving an SIV, many eligible Afghans will have to deal with massive backlogs to obtain permanent legal status. Under a 2013 amendment to the Afghan Allies Protection Act, the SIV visa is supposed to be reviewed in 9 months. However, because many of the evacuees only began the SIV application process upon their arrival, the legal wait time to be granted an SIV visa can last up to 4 years. About 18,000 who had already started the SIV visa application process had to stay in Afghanistan awaiting their paperwork, facing tremendous dangers as they hide from the Taliban.
There are also many Afghans who risked their lives for the US military but were not immediately evacuated and brought to the US because they did not qualify for the SIV visa. Under the Priority-2 program, any additional interpreters or assistants that did not qualify for the SIV visa can apply for this status. However, they face even longer wait times for legal status. Because of dangers that come with not having legal status in the US while simultaneously being a political target back in Afghanistan, these humanitarian parolees are taken to US military bases and are met with US Citizenship and Immigration staffers to help process their paperwork.
But, this parolee status has raised concerns with the separation of families similar to asylum seekers crossing the US-Mexican border. Many families arrive with one SIV-eligible-adult and the rest of the family enter as parolees. Their different statuses prompt their processing to be separated, sending family members to different states or military bases. 
In seeking an alternative to the difficult bureaucratic process to obtain a visa, the only other way for many Afghans to migrate is to ask a US embassy or a UN organization to refer them into the US refugee system. However, the system is backlogged with applicants from the Mexican border and requires copious amounts of security clearances. The ensuing wait times would only further complicate many Afghans' precarious situation.
The challenges from the plethora of paperwork and processing trickle down into the resettlement process of the Afghan evacuees. Nine resettlement agencies are contracted by the State Department to resettle the newly arrived Afghans. They are: Church World Services (CWS), Ethiopian Community Development Council (ECDC), Episcopal Migration Ministries (EMM), Hebrew Immigrant Aid Society (HIAS), the International Rescue Committee (IRC), US Committee for Refugees and Immigrants (USCRI), Lutheran Immigration and Refugee Services, (LIRS), United States Conference of Catholic Bishops (USCCB), and World Relief Corporation (WR). In addition, there are a host of local resettlement agencies such as RAICES in Texas. The Federal Government mandates that the resettlement agencies be responsible for housing and enrolling children in schools.
Due to the rushed emergency evacuation of Afghan allies, some resettlement agencies were notified of the evacuees' arrival only once they were already in the United States. This severely reduced the resettlement agencies' ability to obtain resources, make living arrangements, or recruit enough personnel to provide COVID testing and clothes for the Afghan arrivals. In addition, resettlement agencies are used to situating refugees who have already acquired legal permanent status or are legal residents of the US under a visa. 
Since many Afghan evacuees have been only designated a temporary "Humanitarian Parole" status, these immigrants will only receive a paltry, one time $400 payment from the resettlement agency, an amount mandated by the Federal government. Without any other assistance, the parolees will be left to privately finance most of their needs including health care, housing, and legal assistance. This is especially troublesome for families who do not speak English and are looking for jobs in the midst of a pandemic. Because of the resettlement agencies' narrow mandate, there are many needs left unmet. This includes areas like language skills and cultural customs, obtaining food and clothes, securing a job, or establishing credit. 
The US is not alone in helping Afghan refugees. Afghans make up one of the largest refugee populations in the world.  Twenty one other countries are now housing refugees from Afghanistan.  According to UNHCR, there are more than 2.6 million registered Afghan refugees with another 3.5 million Afghans who are internally displaced. This number is only expected to increase.
Afghans make up one of the largest refugee populations in the world.